AG SHOW
The First Annual KIIC Regional Farm Show and Ag Expo will be held at Bridgeview Center / Ottumwa March 21 and 22.   Plans are still coming together, but we will feature several guest speakers including Iowa Ag Secretary Bill Northey, Farm Broadcaster Ken Root, Cargill's Ray Jenkins, Knoxville Regional Livestock Auction's Joe Wright and many others.   The Expo hall will come alive with over 30,000 square feet of space for Ag related businesses to connect with their customers.    Here is additional information.
There is NO COST for attendees to come to this show.  We want this to be a great opportunity for business marketing, ag networking and education opportunities.
Preliminary show times will be Friday 3-8pm and Saturday 8-3pm.   Set up anytime on Friday before 2pm.
Free Exhibitor Reception 2-3pm Friday Sponsored by Albia Brewing Company – Tasting Reception Pizza and Beer
Free pancake breakfast on Saturday 7am-9am to the first 750 sponsored by Growmark FS and the Iowa Agribusiness Radio Network
Friday Night Reception - Ribeye Sandwiches to the first 500 – Sponsored by Monroe County Farm Bureau.
Saturday Bacon Bar – 1-3pm – Free – Sponsored by Kelly Bryan, Bryan Seeds
KIIC will be giving away 5 Lazy Boy Recliners this weekend to attendees
Conferences on Friday and Saturday in various Bridgeview Center Conference Rooms.  Please contact us to reserve  – we will limit the number of sessions related to similar themes.
Booth Space is 10′ x 10′ for Singles or 20′ wide x 10′ deep for doubles.  Larger spaces are available, please contact us if you need larger space.
Booth Space Costs are:

Existing Regular KIIC Customer* – Single Space $125, $250 Double (Electricity +$15)
Non Existing KIIC Customer – Single Space $250, $450 Double (Electricity +$15)
Optional Visibility /Marketing Options for the show: CLICK HERE

For more information, please contact KIIC 641-932-2112, or email joe@kiicradio.com
For more information on the Bridgeview Center, visit www.bridgeviewcenter.com
* An Existing Regular KIIC Customer is one that has done business with KIIC in the past 12 months with at least $500 in total annual advertising.    You can become a KIIC customer by purchasing an ad package specifically tailored for the Ag Show which will lower your booth cost.  These affordable packages are found above in the Visibility/Marketing Options Link.
** Additional Speakers Just Announced **
Dr Elwyn Taylor – ISU – Weather Trends
Greg Brenneman  ISU - Ag Drainage Research and Applications for Southern Iowa
Ryan Drollette – ISU – 2014 Farm Bill – What you really need to know
Mark Carlton/Patrick Wall – ISU- Cover Crops Management and Grazing Cover Crops
David Baker on Farm Transitions - ISU - Passing the Farm to the next Generation.
TD&T – Depreciation and New Finalized Repair Regulations for 2014
FoxHole LLC – All things Guns
FoxHole LLC – Annie Get Your Guns – Gun Basics and Permitting – geared toward the ladies
… More to be announced soon….
OFFICIAL 2014 AG SHOW HOTEL PARTNERS
The AmericInn offers 54 rooms and suites, many with two Queen size beds or one King/Queen bed. Upgrades in some rooms include jetted tubs, refrigerators and microwaves. Other amenities are a heated indoor pool, hot tub, high-speed Internet, and full hot breakfast – all complimentary.  We are close to the Bridgeview Center.
Call and reserve your room today.  Ask for the special group rate for Farm Show & Ag Expo vendors and attendees starting at $69.90.
(641) 684-8222 or (800) 634-3444
ottumwa.ia@americinn.com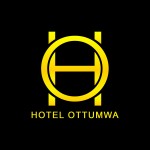 Hotel Ottumwa is a full service hotel conveniently located in historic downtown Ottumwa.  The hotel is walking distance from city and county offices— while just minutes from the Bridge View Center.  The Second Street Café, directly off the lobby offers a large menu. Complimentary breakfast is served made-to-order in the café, and to-go options are available.  The Tom-Tom Tap, the only Native American themed lounge in the state, has cocktails, draft and bottled beer, in addition to offering the entire restaurant menu.
Call and reserve your room today!  Ask about our group rate for the Farm Show & Ag Expo vendors and attendees.
Rooms starting at $59.
(641) 682 – 8051
About Bridgeview Center:
The exposition hall is 30,000 sq. ft. and can be divided into three 10,000 sq ft. sections each able to handle up to 500 guests for a banquet or meeting. 30' high ceilings allow large exhibits and equipment to be easily displayed. Access is convenient through a drive in dock and two semi trailer bays.  This space can accommodate 2,931 for a concert and 146 10′x10′ booths for trade shows and conventions. Floor boxes every 20 square feet with (4) 110V circuits, network jack and phone jack. (1) 400 amp and (1) 200 amp disconnects; (12) 60 amp 3 phase