AG SHOW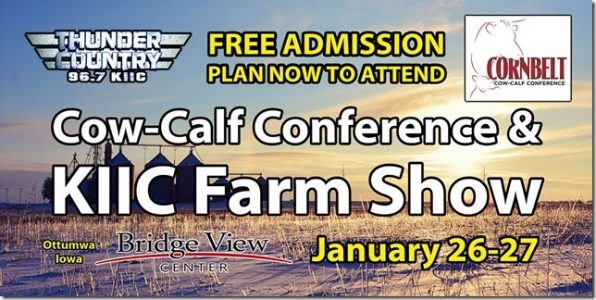 KIIC is proud to bring you the Fifth Annual Regional Farm Show and Ag Expo to be held at Bridgeview Center Ottumwa January 26,27 2018.   We are happy to continue combining efforts with the Cornbelt Cow-Calf Conference (46 years in the running) to bring attendees 1 big, 2-day show.
The benefit for vendors is that you are essentially getting 2 shows for the price of 1 – and booth fees remain virtually unchanged if paid by December 31st.  Existing KIIC customers get 20% off their booth fee*.
Sessions are being finalized and will be announced soon.
CLICK HERE; VENDOR REGISTRATION
Combining the two events has several benefits:
MORE ATTENDEES

:  CCCC brings an existing audience and regular attendees from it's 43 year history.

FREE EVENT

:  There will no longer be a $15 admission fee to the CCCC.  KIIC's involvement will make this new 2 day combined event FREE!

SAVE ON VENDOR COSTS

:   Many vendors attended both events, creating dual expenses.  By combining the events, you essentially will get double the exposure for 1/2 the cost.  The booth fees are virtually unchanged AND you only need to pay for the single event.

MORE VENDORS

:  KIIC brings its rich agricultural programming, a broader approach and access to their 100+ vendors from it's show.  More vendors generally means more attendees.

BETTER DATE

:  KIIC is able to move it's March show up to a better date in January when CCCC is typically held.

BETTER PROGRAMMING

:  As they always do, CCCC is able to bring in expert speakers from all over the country.  KIIC brought in farm broadcasters and other well known guests for their show.   We are also currently working on getting the area FFA chapters to participate during Friday's session for special events.
KEY DATES AND TIMES:
Oct 25, 2017      REGISTRATION OPEN
DECEMBER 31     VENDOR FEES DUE
JANUARY 1             VENDOR FEES INCREASE 20% FOR NON-PAID OR NEW REGISTRANTS
JANUARY 24        LARGE ITEM MOVE IN OR STAGING
THU JANUARY 25-       STANDARD BOOTH MOVE IN   8a-5p
FRI  JANUARY 26 –       SHOW OPEN  3-7pm
FRI  JANUARY 26 –       VENDOR AND ATTENDEE  RECEPTION, EXPO HALL 5-7PM
SAT JANUARY 27 –       CCCC SESSIONS AND SHOW OPEN       8a-4p
 CLICK HERE: VENDOR REGISTRATION
* To get the KIIC discount, an Existing KIIC Customer is one that has done business with KIIC in the past 12 months with at least $750 in total annual advertising.    Not a KIIC customer today but want a lower booth fee??   You can become a KIIC customer by purchasing an ad package or show guide ad specifically tailored for the Ag Show -which could lower your booth cost.  These affordable packages are found above in the Visibility/Marketing Options Link.
OFFICIAL 2018 AG SHOW HOTEL PARTNERS
The AmericInn offers 54 rooms and suites, many with two Queen size beds or one King/Queen bed. Upgrades in some rooms include jetted tubs, refrigerators and microwaves. Other amenities are a heated indoor pool, hot tub, high-speed Internet, and full hot breakfast – all complimentary.  We are close to the Bridgeview Center – about a 5 minute drive
Call and reserve your room today.  Ask for the special group rate for Farm Show & Ag Expo vendors and attendees starting at $81.90.
(641) 684-8222 or (800) 634-3444
ottumwa.ia@americinn.com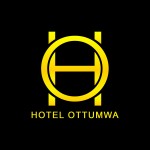 Hotel Ottumwa is a full service hotel conveniently located in historic downtown Ottumwa.  The hotel is walking distance from city and county offices— while just 5 minutes from the Bridge View Center.  The Second Street Café, directly off the lobby offers a large menu. Complimentary breakfast is served made-to-order in the café, and to-go options are available.  The Tom-Tom Tap, the only Native American themed lounge in the state, has cocktails, draft and bottled beer, in addition to offering the entire restaurant menu.
Call and reserve your room today!  Ask about our group rate for the Farm Show & Ag Expo vendors and attendees.
Rooms starting at $69.95
(641) 682 – 8051
About Bridgeview Center:
The exposition hall is 30,000 sq. ft. and can be divided into three 10,000 sq ft. sections each able to handle up to 500 guests for a banquet or meeting. 30' high ceilings allow large exhibits and equipment to be easily displayed. Access is convenient through a drive in dock and two semi trailer bays.  This space can accommodate 2,931 for a concert and 146 10′x10′ booths for trade shows and conventions.  Multiple 110vac circuits,  (1) 400 amp and (1) 200 amp disconnects; (12) 60 amp 3 phase