Farm Show Vendor Info
Marketing Materials:
Use this image below on your Facebook page! Right click and save the image.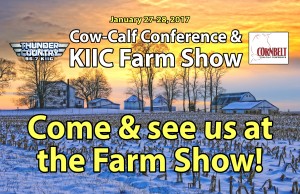 Move-In Schedule:
Wednesday January 25th 8-5pm    LARGE ITEMS
Wednesday January 25th 1-5pm    FORK TRUCK AVAILABLE
Thursday January 26th 1-5pm       OPEN MOVE IN- ALL BOOTHS
Friday January 27th 8-Noon          FINAL MOVE IN (help available from Oskaloosa FFA)
Move-Out Schedule: 
Saturday January 28th 4-6pm       ALL ITEMS MOVED OUT.   History has shown we are mostly all gone by 6pm.  BVC needs to begin bringing in dirt for a rodeo after our event – all items must be removed.
** VENDORS AS OF 1-17-17 **
ABS Global, Inc.
Agriland fs
Ajinomoto Heartland Inc
B & B Equipment
Beaumont Specialty Products
Biozyme Inc
Bix Basement Systems
BRUXVOORT TRACTOR LLC
Business Name (Will Appear on Booth and Advertising)
C1st Credit Union
Cargill
Cattle Auctions Weekly
Circle A Angus
Cobett Cattle Waterers
Cobett Company
CR Cattle Company
Cutco Cutlery Events
Davis Seed Co.
DES MOINES DIESEL INC
Double D Repair
DuraCrop Seed
Eldon C Stutsman Inc.
Financial Partners, Inc.
First Iowa State Bank
Fremont Country Store
Genex Beef Corporation
Gooden Family Chiropractic LLC
Green Valley Seed LLC
Greiner Implement Company
HCI MAKRETING
HEDGEWOOD Equipment
HIGH PLAINS JOURNAL
Hinshaw Trailer Sales
Iowa Agribusiness Radio Network
Iowa Angus Association
Iowa Cattlemen's Association
Iowa Corn
Iowa Farm Service Agency
Iowa Hereford Breeders Association
Jager Land & Livestock
KDK Sales & Equipment, LLC
KIIC
KJ Trailers and Ranch Equipment
KLIMA ENTERPRISES
Krazy Metal Art
L & L Risk Mgt
La Crosse Seed
La Crosse Seed
LAG Industries
LB Construction & Fencing
LYTTON FARM EQUIPMENT
Mast Viny Windowa
MCCLOUD WATER SYSTEMS
McCune and Reed Insurance
Merck Animal Health
MERIAL
Mills Mid-Iowa Machinery
MIX 30 / Harris Distributing Inc.
Morton Buildings, Inc.
NOEL Insurance
P. J. Technologies
Pete Harkness Chevrolet Buick
Principal
Purina
R/J PERFORMANCE INC.
Rhinestones and Rawhide
Sinclair Tractor
Skunk River Ag, LLC. / NM Wehr Corp.
Superior Distributing of Iowa
TDT CPAs & Advisors, PC
TIMAC Agro USA
Titan West
Top Notch Trade Company
Trojan Hill Farms
Turtlerock & Leachman Cattle Co.
UNITED COUNTRY-HAWKEYE FARM MGMT & REAL ESTATE
USDA, National Agricultural Statistics Service
VanWall Equipment
Vitalix
Wapello County Public Health
Wapello County SWCD
WD 63 Pipe and Steel
Werk Weld Inc.
Werk Weld Inc.
WesLynn Enterprises
Whispering Woods LLC
Woodruff Angus