BaconTown!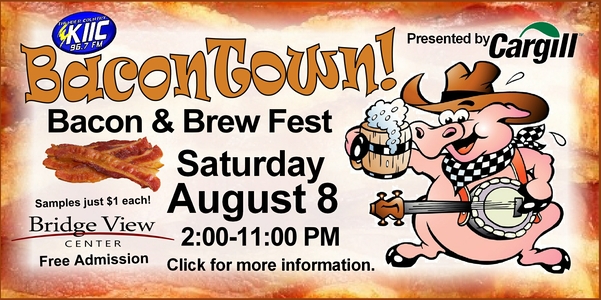 KIIC is proud to bring you the second annual 'BaconTown' presented by Cargill – August 8th.  Join your friends and family at the Bridgeview Center …anytime from 2-11pm for samples of Bacon and Brew from area vendors!  Admission is FREE.. and samples start at $1.
Tony Blew, The Crushers and Small Town Superheros will take the C1st Stage and provide music in the 'town square'.
In addition KIIC and Cargill will be hosting our first 'BaconArt' contest – with lucrative cash prizes.  More info to come.
Back again this year, C1st also brings you 'Kids Zone' from 2-6pm with special games and prizes for the youngsters in the Bridgeview Center mega-lobby.    This will include the popular C1st train!
Sinclair Tractor will be providing BaconGators to assist with transportation to and from the parkinglot.
And a reminder, if you are a resturaunt or caterer, and would like to be a paid vendor, please contact us at KIIC – 932-2112 or joe@kiicradio.com or click on he link above to register.