BaconTown!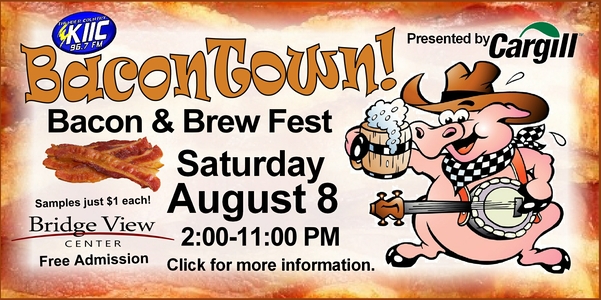 KIIC is proud to bring you the second annual 'BaconTown' presented by Cargill – August 8th.  Join your friends and family at the Bridgeview Center …anytime from 2-11pm for samples of Bacon and Brew from area vendors!  Admission is FREE.. and samples start at $1.
Tony Blew, The Crushers and Small Town Superheros will take the C1st Stage and provide music in the 'town square'.
In addition KIIC and Cargill will be hosting our first 'BaconArt' contest – with lucrative cash prizes.  More info to come.
Back again this year, C1st also brings you 'Kids Zone' from 2-6pm with special games and prizes for the youngsters in the Bridgeview Center mega-lobby.    This will include the popular C1st train!
Sinclair Tractor will be providing BaconGators to assist with transportation to and from the parkinglot.
And a reminder, if you are a resturaunt or caterer, and would like to be a paid vendor, please contact us at KIIC – 932-2112 or joe@kiicradio.com or click on he link above to register.
BACONART INFO:
Calling all Artists and lovers of Bacon!   Create a piece of Bacon Art during for our 2nd Annual BaconTown! Event August 8th at Bridgeview Center and you could win cash!
 Prizes:
1st Place:                             $1000
2nd Place:                            $250
3rd Place:                            $100
People's Choice:               Case of Bacon
 Entrance:
            Open to all ages.   Register by clicking on link above.   No entry fee.
 All Art Types Encouraged!
Picture, Drawing, Sculpture, Collage, Quilt, Yard Art, Mug, etc.  Strut your stuff to more than 3000 attendees.
 Sell it!
Auction to be held at 8pm for anyone willing to sell their work.  25% of the sales price will go to the Food Bank of Southern Iowa.  Artists may set minimum.  We make no guarantee that your art will sell.
 Rules:
The work must be original. Entrant must be the creator or have expressed written permission to submit on behalf of creator. Copyright infringements or redistributing web material without written permission will be disqualified from the contest.
Each entrant must bring their original artwork to the Bridgeview Center in Ottumwa for display and judging. Art must be on hand by 12pm August 8th and must remain until 8pm.
Artwork left past 11pm August 8th will be forfeited and possibly destroyed.
Each entrant will be provided a maximum space of 2'x2.5' for their artwork. We must be notified if your work exceeds 2'x 2.5'.   Smaller forms of artwork taking less space is not guaranteed 2'x2.5'
KIIC reserves the right to reject obscene or culturally offensive art.
Art will be judged by a panel of no more than 6, no less than 3 judges.   Although there are no categories for our first year, judges will naturally focus on the display of the item, the creativity and the use of bacon.
Entrant can win the cash prize and also be eligible for the People's Choice prize.
No live animals may be used.