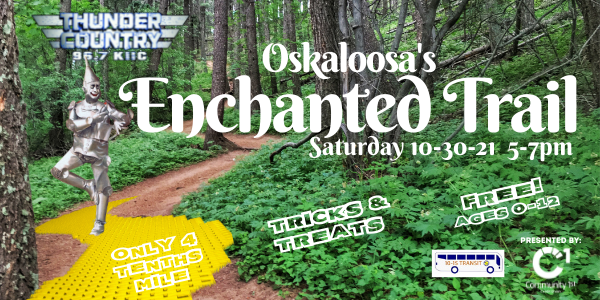 Following the first wildly successful KIIC Enchanted Trail,  sponsored by C1st Credit Union – we're back again Saturday October 30, 2021 in Oskaloosa!    This kid-appropriate themed adventure will begin at a scenic stretch beginning at KB Auto and ending with at Stephen's Memorial Animal Shelter.   The trail will be decked out in the Wizard of Oz them – with decorations, lighting, and themed kid-friendly stops along the way – tying in to the legacy Oz movie.   Kids (ages 0-12) should bring their candy sacks and are welcome to dress in costume or come as you are!
This is an opportunity for families to get out and get active on this 4 tenths of a mile path – which is undoubtedly one of the most scenic parts of the Oskaloosa Trail System. It is absolutely FREE due to the gracious support from Community 1st Credit Union.
Here are some additional details!
Not scary – Age appropriate for kids 0-12
Park at KB-Auto (across from Frosty Udder)  This is the start location.  (Turn in at H&S Feed)
Ride the C1st train at Stephen's Memorial Animal Shelter
Additional treats at Stephen's – take an optional tour or meet some of the pets!
Shuttles (10-15 Transit)  will take you back to your car at KB Auto or you can walk the .4 mile back
Sorry – for the safety and atmosphere for everyone – YOUR pets are not allowed, no exceptions.
Be considerate of others on the trail – while strollers are welcome, no bikes or skateboards.
Path will be closed to normal traffic during this time.
Path is concrete, and minimal incline – fall colors galore!
There will be an optional donation bucket at Stephens with all proceeds to the shelter
Rain or Shine (if its light rain- no lightning)