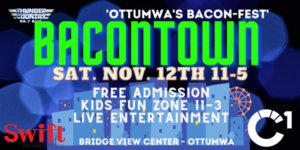 Ottumwa is the bacon capitol of the US – and we celebrate with BaconTown! at Bridgeview Center Saturday November 12th from 11a-5p.   Over 2,300 pounds of JBS provided bacon are dolled out to around 12 local chefs who create 40+ bacon dishes from savory to sweet.   There's even locally brewed bacon beer from Albia Brewing Company.   Admission is free, but if you want to try the bacon items, they are generally $1 each.  Trust us when we say that the $1 helpings are plentiful!
As if great tasting bacon wasn't enough, KIIC transforms the Bridgeview Center into a quaint 'town' scene using several hundred feet of Broadway backdrops – along with special lighting.
Live entertainment will be provided by The Mondeau Dukes from 11-3
C1st Credit Union brings you the Free 'Kids Zone' from 11-3 with games, inflatables and even a couple of indoor carnival rides!